Next-generation consumer favorite, ultra-large format and laser fiber cutting machine with ultra-high power
Views:9 Author:Site Editor Publish Time: 2021-01-05 Origin:Site
Laser processing's level of automation, integration and intelligence continues to increase.Three-dimensional welding, three-dimensional labeling, three-dimensional cutting and other multi-dimensional processing can be realized based on the incorporation of industrial robot technology, extending the applicability and application fields of laser technology.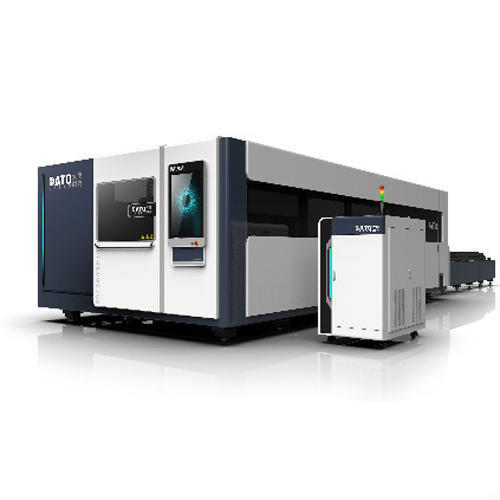 In recent years, advances in the laser diode design and manufacturing process have provided more advantages for high-power laser systems in terms of cost and reliability. Currently, the increasing demand in the industrial sector has encouraged the worldwide production of high-power lasers. In addition, high-power lasers in Europe and North America are experiencing rising demand in aerospace, defense, automotive, and medical applications.
The industrial application of the ultra-large format laser cutting system can be divided into macro processing and micro processing for high-power fiber laser cutting machines, and macro processing involves applications for cutting, welding and labeling.The manufacturing of semiconductors, printed circuit boards, flat panel displays, and solar cells primarily involves microprocessing.
High intellect, high power, high beam efficiency, reliability, low cost and all solid state are being developed by laser research and development. The mainstream of laser production would become semiconductor lasers, semiconductor pumped solid state lasers and fiber lasers. The worldwide semiconductor laser market is projected to hit 9.52 billion US dollars in 2024, according to estimates.
Among them, the two main items leading the market are high-power semiconductor lasers and optical fiber lasers. The demand for compact size lasers, high efficiency of photoelectric conversion and low power consumption has increased.At the same time, in the field of material processing such as cutting and welding, the semiconductor laser market is expected to continue to grow with the advancement of semiconductor laser materials and installation technology. Additionally, creative optical hybrid solutions would also provide the high-power laser industry with additives.
Asia-Pacific markets such as China, South Korea, and Taiwan will experience tremendous growth in demand for high-power lasers from a regional perspective, based on the rapid expansion of its manufacturing industry. More development space for laser micromachining has also been developed by the large-scale semiconductor industry.
Combining laser technology with other disciplines, emerging fields of application such as laser chemistry and laser medical treatment continue to grow, concentrating in particular on the advancement of precision and micro-processing technologies, and further supporting them in the electronics, semiconductor, communications, optical storage, manufacturing of micro-machines, biology and environmental industries.